Contact us to get up to date information on our trips!
Current Trips
* Tuesday, September 13th—Aronoff Center—Hamilton (Evening Showing)
* Wednesday, September 28th—Mystery Trip
* Tuesday, October 4th—Ohio State House & Der Dutchman
* Thursday, October 20th—Fall Foliage Train Ride
* Tuesday, November 1st—B&B Riverboat Cruise
*Wednesday, December 7th – Beef and Boards Dinner Theatre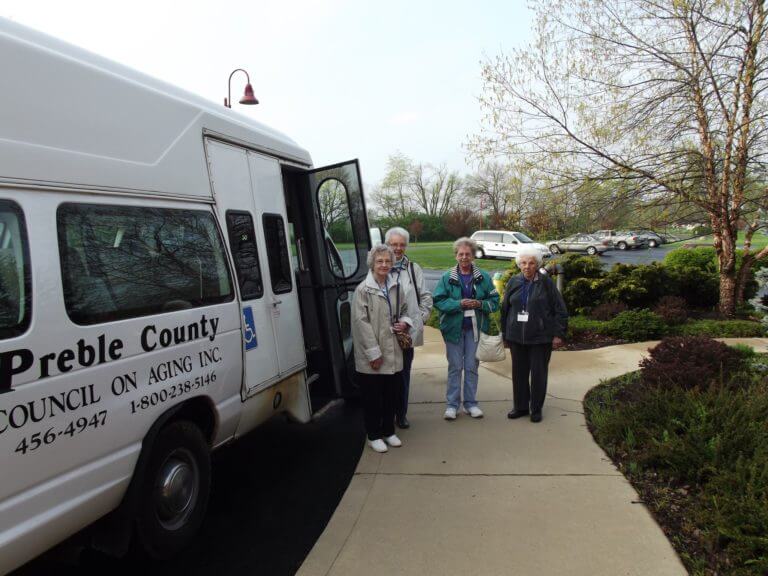 Preble County Senior Center has a great list of Mini-Trips, Motor-coach, and International trips open to individuals age 50 and older.  However, a younger adult may accompany to assist you.
Payments are due 30 days before the trip, unless otherwise stated.  Otherwise, your spot is subject to be filled.  We will not hold names without payment after 30 days. Your trip reservation is not confirmed until you make payment. A different payment policy applies to overnight trips. See the individual flyers for details. Call the Senior Center at (937) 456-4947 or 1-800-238-5146 to check on availability of space and/or to make your reservation.
Cancelation/Refund Policy information is available upon request. Mail your payment to Preble County Council on Aging, 800 East St. Clair Street Eaton, Ohio 45320. Checks should be made out to PCCOA. At least two weeks before the trip, you will receive a trip confirmation listing trip departure and return times, parking and pick-up location, and other pertinent information. Descriptive flyers are available on all trips. 
Preble County Senior Center vans (or small motorcoaches) are used for Mini-Trips. Upon request, we are able to pick you up and return you to your home. The cost of a Mini-Trip includes transportation and admission charges to attractions that will be visited. Meals are usually not included in the price of the trip. Space is limited. Reservations are required and they are on a first-come, first-served basis. Payment is due with your reservation, or within 30 days after your reservation. To make a reservation, or for information on cost of the trip, departure and return times, etc., please call the Senior Center at 456-4947 or 1-800-238-5146. Refunds are not available after final payment is made. If you must cancel the trip, you are permitted to get someone to replace you, but you will need to call the Senior Center to let us know.